Sunday 01 November 2020
ASB AUCKLAND MARATHON NUDGES 14,000 ENTRANTS
26 October 2017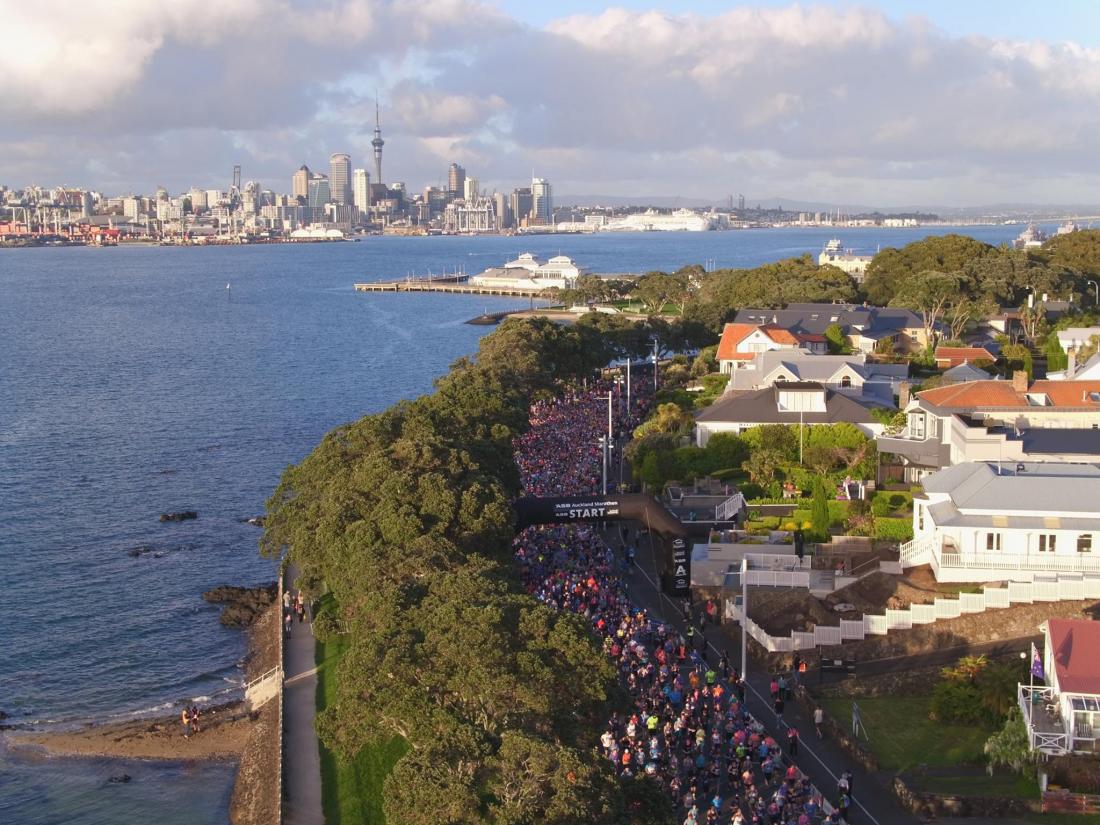 The ASB Auckland Marathon takes place this Sunday, and with two days until entries officially close, it is estimated that an amazing 14,000 competitors in a variety of events will make their way to the finish line at Victoria Park.
At the time of going to press with this release, 13,898 competitors in the ASB Marathon, Barfoot & Thompson Half Marathon, John West 12km Traverse (all going over the Harbour Bridge), Heart Foundation 5km and Kids Run will run, jog and walk to the finish line party at Victoria Park.
Race Director Bec Williams is delighted with the strong response on the back of several innovations to this year's event.
"We are thrilled with the level of entries to the ASB Auckland Marathon, nearly 14,000 across all of our race options is a tremendous endorsement of the unique nature of the event with the Harbour Bridge crossing, but also speaks to the changes that we made to keep the event fresh and welcoming for everyone involved.
"Most of our entrants are New Zealanders, but this is a truly international event with 49 countries represented on the start line. Those international and out-of-Auckland visitors provide a significant boost to the economy, with the spend on accommodation, hospitality and tourism activities around the race."
While some are chasing fast times, headlines and a place on the podium, the vast majority are running to their own pace and their own objectives, with more than 700 runners also registering for the ASB Marathon Charity Hero programme, where it is hoped more than one million dollars will be raised for local charities.
From 4:20am on Sunday morning, runners will be ferried and bused to various start points, with the ASB Marathon and Barfoot & Thompson Half Marathon getting underway from King Edward Parade at Devonport, the John West Traverse from Smales Farm at Northcote, with other events starting and finishing on the city-side of the bridge.
Road closures are in place around the event, starting from 2:00am Sunday morning. 
 ASB Auckland Marathon 2017 – by the Numbers
5 events make up New Zealand's premier road race: Full Marathon, Half Marathon, Quarter Marathon, Heart Foundation 5km Challenge and Kids' Marathon
1923 was the year of the very first Auckland Marathon. It is New Zealand's biggest road race and has been a special part of this city's social fibre for many years, involving all Aucklanders and incorporating iconic parts of the city from the starting gun at Devonport, to the Auckland Harbour Bridge, Auckland waterfront, and Victoria Park to finish.
 6 hardy runners set off that first event in 1923
49 countries will be represented on the start line this year, including Australia (198), United Kingdom (53), Japan (43), United States (42), Germany (34), Singapore (28), Hong Kong (19), China (12), France (11), South Africa (11)
700 plus runners will run for charities this year, as part of the ASB Auckland Marathon Charity Hero programme
1,000,000 dollars is hoped to be raised for those charities
14 official charities are part of the ASB Auckland Marathon Charity Hero Programme
13,898 total entries at the time of this release, with entries still open, the magical 14,000 mark may yet be hit
1800 ASB Marathon runners
11 aid stations on the ASB Marathon course
6,607 Barfoot & Thompson Half Marathon runners
5 aid stations on the Barfoot & Thompson half marathon course
3,698 John West 12km Traverse runners
3 aid stations on the John West Traverse course
67% of John West Traverse entrants are female
52 is the average age of John West Traverse entrants
1 John West Bear taking part in the John West Traverse, supported by a group of runners wearing 'bear onesies' for the journey
1,112 Heart Foundation 5km runners
2 aid stations on the Heart Foundation course
681 Kids Run runners
More than 345 ASB staff members taking part in the ASB Auckland Marathon event
266,665 kilometres of distance covered by all those runners and walkers combined (at present entry levels)
700 + Volunteers on course
5,500 people will be transported by ferry
2,500 bus journeys
55,592 safety pins (based on current entries)
10,500 bananas
3,200 metres of barrier fencing
134,000 paper Powerade and water cups
14 Fitbit Ionics given away to winners of this year's ASB Blitz the Bridge – prizes given every 30 minutes for the fastest man and woman on the incline section of the Harbour Bridge during that 30-minute window
1,000 runners received an extra push in the lead up to the ASB Auckland Marathon with ASB Fasta. ASB Fasta is an edible tagliatelle pasta embossed with supportive messages to keep runners' spirits (and energy levels) high. The front of each box was personalised with a message of support.
 Event Activations
 ASB Marathon Charity Hero runners and ASB customers can receive sports tape strapping free of charge (show ASB Card)
ASB Japanese drummers will be located before the Auckland Harbour Bridge and again on Tamaki Drive (opposite Kelly Tarltons) to encourage runners and give that extra push of adrenalin as they approach the bridge.
ASB's main supporter zone will be located at Jellicoe Street and will be filled with music and dancing, accompanied by a local DJ. 
At the finish line, ASB customers who take part in an ASB Auckland Marathon event will have the opportunity to relax and recover in the ASB home base at Victoria Park and enjoy complimentary massages, and food and drinks.
The finish line at Victoria Park will be party central, with an event village going up on the green including amazing food and refreshments, massage, entertainment and music.