Sunday 01 November 2020
ASB helping Laura Stuart to the ASB Auckland Marathon start line
12 September 2018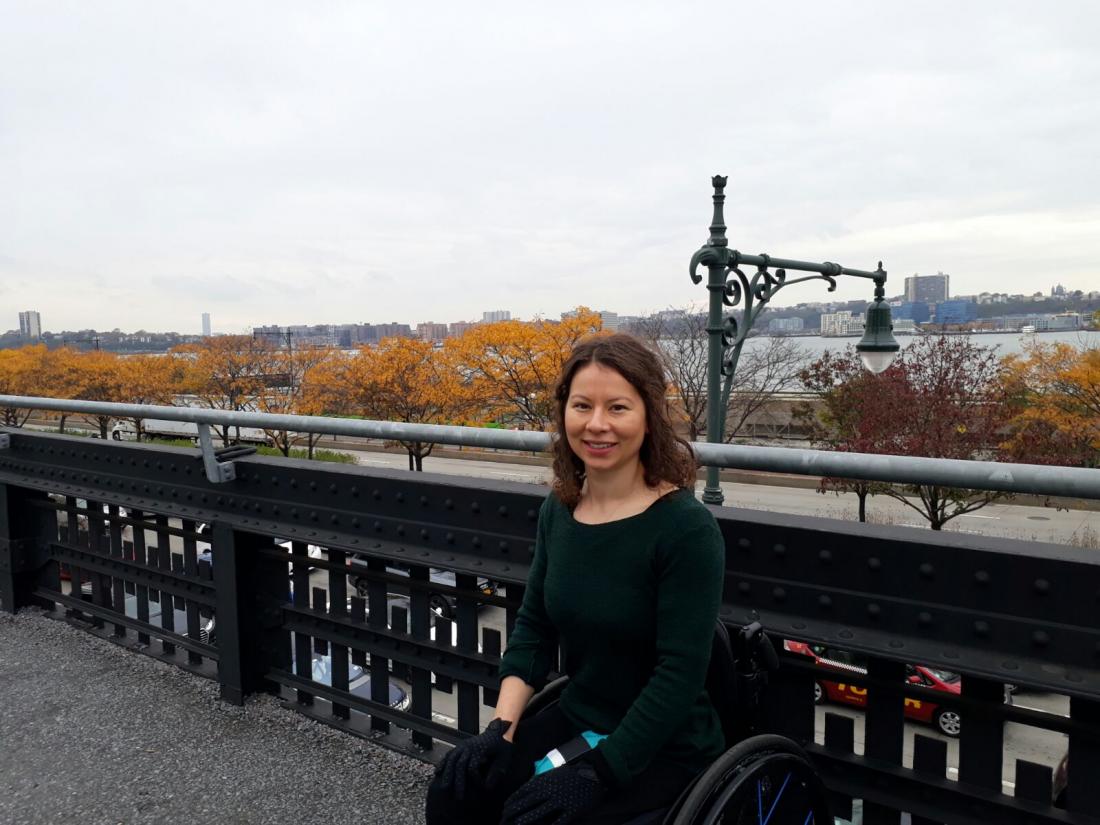 Photo caption: Laura Stuart competing in the New York City Marathon. Photo / supplied
To celebrate the inclusion of a wheelchair category in this year's ASB Auckland marathon, ASB is giving away a custom-built racing chair to Wellington lawyer Laura Stuart.
Two years ago, Stuart was involved in a mountain biking accident that left her paralysed from the chest down.
The sporty 31-year-old hasn't let this stop her however, borrowing a racing wheelchair from paraplegic association Parafed and competing in the New York marathon just a year and a half after the accident.
"I was advised that it was too early and too ambitious and I should wait until the next year, but I trained for six months and managed to complete it," she says.
"I wanted to have a big scary goal, and the New York marathon meant ticking off two big steps for me – travelling internationally in a wheelchair and getting my fitness and strength back."
Having her own racing chair will allow her to enter more events and train around Oriental Bay, she says.
"In New York I used a borrowed wheelchair. It served its purpose and got me through but it's the same as riding a borrowed bike or trying to fit someone else's running shoes," Stuart says.
"Having a chair built to fit me will hopefully mean that I don't feel like I'm on a chair but that the chair is part of me. I hope it will give me the feeling of freedom that I used to get when I went for a run or a ride on my bike."
Stuart was one of 43 entries for the racing chair, which will be made to order and built in the US before being shipped to New Zealand.
She was selected by the Halberg Disability Sport Foundation and Achilles New Zealand.
ASB head of community and sponsorship Mark Graham says ASB is thrilled to be able to help Stuart fulfill her dream.
"The ASB Auckland Marathon is all about progress, and Laura really epitomises that. She hasn't let anything stand in the way of achieving her goals and her attitude is inspirational," Graham says.
"She is a truly deserving candidate and we're delighted to be able to fund a racing chair which will allow her to continue ticking off her goals."
Stuart is hoping to compete in the inaugural wheelchair category at this year's ASB Auckland Marathon on October 28, which will see competitors race over Auckland's Harbour Bridge and around the city.
ASB Auckland Marathon Race Director Adam McDonald says Stuart is an inspired choice.
"We are delighted with the choice of Laura as the recipient of the custom-built chair thanks to ASB, enabling her to take part in the ASB Auckland Marathon in October to fulfil her racing ambitions," he says.
"As well as the obvious passion and enthusiasm that Laura brings to her own training and racing, it is also abundantly clear that Laura will inspire others through her involvement in the event.
"We talk about giving everyone the chance to 'Run it Your Way' across all of our race options, Laura is the perfect example of that attitude not just to the race, but to life and all the challenges it can throw at you.
"She will set a great example to others who might be contemplating taking part in the event."
McDonald says the addition of the category will bring the ASB Auckland Marathon into line with some of the world's iconic big city marathon events.
About the ASB Auckland marathon wheelchair division
The 2018 Wheelchair race is a pilot event, with all competitors invited to take part on the basis of meeting an agreed set of criteria laid out by Halberg Disability Sport Foundation, Achilles New Zealand, and event organisers.
This is not an open event in 2018 but it is hoped it will be in the future.
Wheelchair competitors will start ahead of the other race categories and will follow the same course as all other athletes from Devonport, over the Harbour Bridge, along the waterfront and to the finish line at Victoria Park.
The invited athletes will be named closer to race day. Any queries on invitation criteria should be sent to the Halberg Disability Sport Foundation.
There are different divisions within Wheelchair racing, including: