Sunday 01 November 2020
CONTENDERS CHASE FAST TIMES AND INCREASED PRIZEMONEY AT ASB AUCKLAND MARATHON
17 October 2019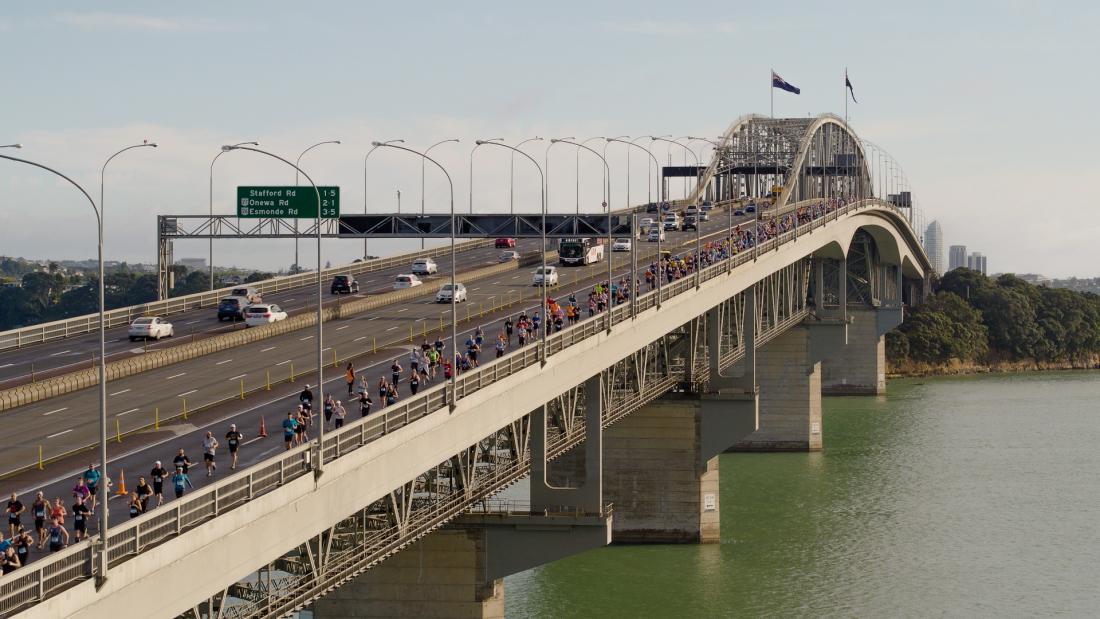 Australian marathon runner Isaias Beyn is looking for redemption at this weekend's ASB Auckland Marathon, returning with a better understanding of the course and its challenges, and looking to improve on his third place finish last year when starting as race favourite.
The Eritrean born Beyn has a personal best time in the 42.2km race of 2:11:37 but by his own admission did not race well last year, when fading in the second part of the race won by fellow Aussie David Criniti.
"There are some hills in the first 15km. Last year they weren't a problem for me, but I paid for it in the second half. By 32km I had bad pain in my foot. This year, I hope to be more patient," said Beyn.
This year has seen some highs and lows for the quietly spoken Beyn, including being crowned national champion.
"So far I have run well coming 10th at the Gold Coast and becoming Australian Champion in Sydney. I hope to win here after missing out last time. It hurt."
Beyn has married this year and is soon to become a father for the first time, but his goal of representing his new home country have not changed.
"I want to run for Australia. I have my citizenship application in. Tokyo 2020 would be my dream. I have a lot of work to do. If not next year, then maybe World Champs 2021, or Commonwealth Games 2022."
The competition for Beyn this year comes almost exclusively from New Zealand, with the Wellington duo of Hiro Tanimoto and Bert Prendergast making the trip north to chase the $5,000 first prize, and the honour of winning the largest marathon event in the country.
Watch out also for Michael Voss (Rotorua) and Nicholas Sunseri (Queenstown), both have previously run under or close to 2:30 for the marathon distance and will want to stay in contention for as long as they can as the race heads from Devonport up to Albany and then to and over the Harbour Bridge to the finish line in Victoria Park.
In the women's race expect Mel Aitken to feature strongly, the 42-year-old Wellington based senior police officer simply loves to run and comes to Auckland on the back of taking out the New Zealand and Oceania Ultra Running title in Taupo just last weekend, as well as winning both the Tauranga and Dunedin marathons in recent months.
A former winner of the Air New Zealand Queenstown Marathon, Aitken thrives on a busy diet of racing and is these days mixing her trail and road running to good effect.
"It's been a real mix and to be honest I am looking to make the most of opportunities when they allow me to be able to attend events feeling fit and well. My training has been solid so it's nice to be able to test myself over different terrains.  I am off to Xterra World Trail Champs in Hawaii in November so that will be my last big one for the year."
Aitken hasn't raced Auckland for a few years but with her work schedule allowing a return this year, she can't wait to return to a former stomping ground.
"I am really looking forward to the buzz and hype on the day and just enjoying every kilometre.  I lived in Auckland for the first couple of years of my career back in 1999, working on the North Shore, so there are always good feelings of returning to local haunts around the streets of Devonport where the race starts." 
Well-performed triathlete Hannah Wells will be a fascinating watch in the women's race, coming off a superb season that saw the 70.3 specialist win on the Sunshine Coast in Australia. Wells has put her medical career on the back burner for the moment to concentrate on a fulltime career as an athlete and is on debut over the distance.
The Tauranga athlete is used to running a half marathon on the back end of a swim and bike, so should have the endurance aspect covered, but is admittedly heading into the unknown.
"This will be my first marathon, so I want to race it smart and not go out too hard, I've heard a marathon hurts ha ha! So, my goal is to race a well-paced event with the plan to aim for sub 2.50, maybe around the 2.45-2.48 mark, all things going well.
"This has not been on my radar until just recently. But since I have just come out of 6 weeks of IRONMAN training in the USA, it turned out to be perfect timing. I also like to try new challenges from time to time when it comes to racing as well as the half distance triathlons. In the past I have done races like Coast to Coast, Red Bull Defiance, The Speed Project in America, adventure races, mountain biking races, trail runs etc. to keep things interesting!"
29-year-old Tauranga athlete Jess Walley, the 29-year-old is yet to dip under the three-hour mark but is capable of big improvements in that personal best to also challenge for the podium.
The Barfoot & Thompson Half Marathon men's race is shaping as one of the toughest to call, with a field rarely assembled in New Zealand in terms of depth of New Zealand distance running.
Recently crowned New Zealand cross country champion Cameron Graves is one of many well credentialled starters but he is one of six to line up with a personal best under 1:07 for the 21.1km distance, so expect the winner to pull out something special on Sunday morning to fend off the other contenders.
Aaron Pulford (Tauranga) and 2018 John West Traverse winner Jack Moody (Auckland) will all have eyes on the $2,500 first place prizemoney, as will Jonathan Jackson (Auckland), Christopher Dryden (Christchurch) and Air New Zealand Hawke's Bay half winner Daniel Balchin (Cromwell).
Outright favouritism in the women's Barfoot & Thompson Half Marathon looks to be a contest between Queenstown Half winner Lisa Cross and Lindsay Barwick. Both have stepped down from the marathon this weekend to take on the shorter distance and will be capable of a duel to the finish.
Elite athletes are chasing their share of a total prize purse of $29,500, making it one of the richest marathon events in the country, with the men's and women's winners of the ASB Marathon taking home a cool $5,000 for their efforts.
15,000 participants in total will take on the five events on offer on Sunday, with the John West Traverse, Fitbit Family 5km and Barfoot & Thompson Kids Race all joining the full and half marathon runners in finishing at Victoria Park throughout the morning and afternoon.