Sunday 01 November 2020
ERITREAN REFUGEE RUNNING TO NEW LIFE LINES UP AS FAVOURITE
26 October 2018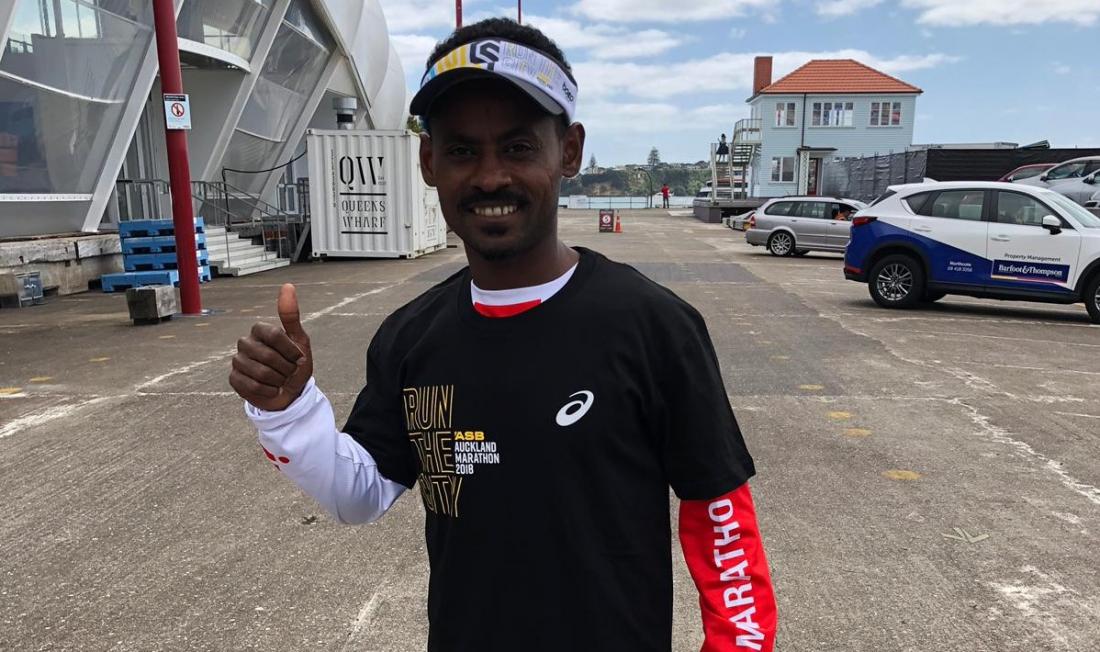 Eritrean born Isaias Beyn looms as the greatest threat to the Kiwis at Sunday's ASB Auckland Marathon, in a men's race that has any number of podium contenders, with the now Australia domiciled athlete on the comeback trail after a frustrating couple of years with injury.
Beyn began running in 2010 in his native Eritrea, making rapid gains from an opening 2:31 effort in Asmara to 2:11:57 when placing fourth at the Frankfurt marathon in 2012. Injuries would take a toll on Beyn though, slowing his ability to put in quality training and slowing his progress.
Beyn was selected to pace the Kenyan team at the 2015 Gold Coast Marathon, taking the leaders through 30km at 3 minutes per kilometre pace and has since been living in Australia on a permanent refugee visa and has has teamed up with coach John Whelan at Intraining Running Club (in Brisbane), with a focus on getting healthy.
"This year is all about adapting to a change in training for Isaias," said Whelan. "Last year he was running longer races, marathons and half marathons but this year we have tried to keep the races shorter, at least until he has been able to increase his distance over the past eight weeks."
With an undulating first 10km out of Devonport and then the 2km climb over the Harbour Bridge, the key for Beyn is to retain some of that shorter distance leg speed for the closing kilometres into the finish line at Victoria Park.
"I don't know much about the place or the course, it is my first time to New Zealand," said Beyn. "I will have to see how the weather and the course is but the key will be to keep some speed in my legs for the finish of the race, the first 15km will be important to achieve that and stay fresh. It looks like the winning time will have to under 2 hours 20, but we will see what happens on the day."
Beyn has hopes of representing his new country once he has a full passport midway through next year, but Whelan says that is not the focus for now.
"With Isaias recent run of injuries, we have just been focused on adapting his training, reducing his volumes and getting back to full fitness," said Whelan. "He has a permanent visa for Australia but has to be here four years before applying for a full passport, until then he cannot represent Australia. But until we work through his injuries and rebuild his running volume, we have not been targeting any international events. But that is clearly part of the long-term goal, to represent Australia."
That programme certainly seems to be on track, with multiple wins in 2018 over 10km and half marathon distances and a recent step up in training distances including hill and bridge training in Brisbane to prepare him for the Auckland course.
"We have received great help along the way, from the Intraining Running and Triathlon club in Brisbane, as well as support from Cognitive Financial Partners," said Whelan. "But the entire running community in Brisbane has played their part in Isaias's progress these past three and a half years in Australia, they all deserve a thank you for their part in his journey."
Blair McWhirter may be the biggest threat to Beyn, the 36-year-old Cantabrian finished on the podium here last year (third), and earlier this year took out the New Zealand title at the Rotorua Marathon so comes into the race in strong form.
"Having such a deep field is totally a great thing," said McWhirter. "Running against quality runners and people makes it a challenge and pushes everyone that extra few percent. I have a huge amount of respect for anyone that can run a marathon, because there's no pretending. All of them would have been putting hours and hours, sessions and sessions in to be ready for Auckland.

"And as there have been some outstanding performances by Kiwis over the distance, there seems to be an excitement building. Seeing people you know run between 2:16 to 2:20 is so motivating and helps the distance back in the limelight."
Others to feature include ex-pat Irish chef Ciaran Faherty and 27-year-old Daniel Jones. Faherty (Auckland) won the Christchurch Marathon in 2017 while Jones (Christchurch) comes in with the fastest personal best of the Kiwis, posting a 2:20 on the Gold Coast in July this year.
The women's race sees a return for 2017 champion Hannah Oldroyd, an athlete who simply loves to run and takes a very relaxed attitude into every race, although she does admit to knowing more about the course after her victory last year.
"I didn't know the course when running it last year, which was possibly a good thing! There's no plan in place though, so I'll set off slowly and see what happens. My goal as ever is to enjoy the run. I've not had time for much in the way of marathon training around work, so it'll be whatever it is on the day."
Like McWhirter, Oldroyd loves the apparent increase in competition at the top level of the sport.
"Absolutely, it's great to see proper racing happening across the country. I think I got lucky last year with a time of 2:54 and most of the other girls are faster than me, so hopefully the trend for faster racing will keep going in future years.
Oldroyd is a little unorthodox in her pre and post-race regime, with a certain amber liquid her drink of choice.
"Guinness is the pre-race fuel and recovery drink of choice every time! I'll be heading straight to O'Hagan's after crossing the line, although a cold Guinness on the finish line would be incredible."
With the withdrawal of Sabina Piras due to a stress fracture, competition for Oldroyd comes from the likes of two-time podium finisher in Auckland Kelly Parlane (Auckland) and Australian endurance runner Kerri Hodge.
Other numbers of interest in the ASB Auckland Marathon:
• Over 15,000 entrants across the five events
• 51% female, 49% male
• Average age 36, youngest 5, oldest 89
• 95% NZ participants
• 5% International (largest contingents from AUS, Japan, GB, Germany, China, Malaysia)
• 85% Aucklanders