Sunday 01 November 2020
Introducing our 2018 ASB Auckland Marathon Ambassadors!
29 July 2018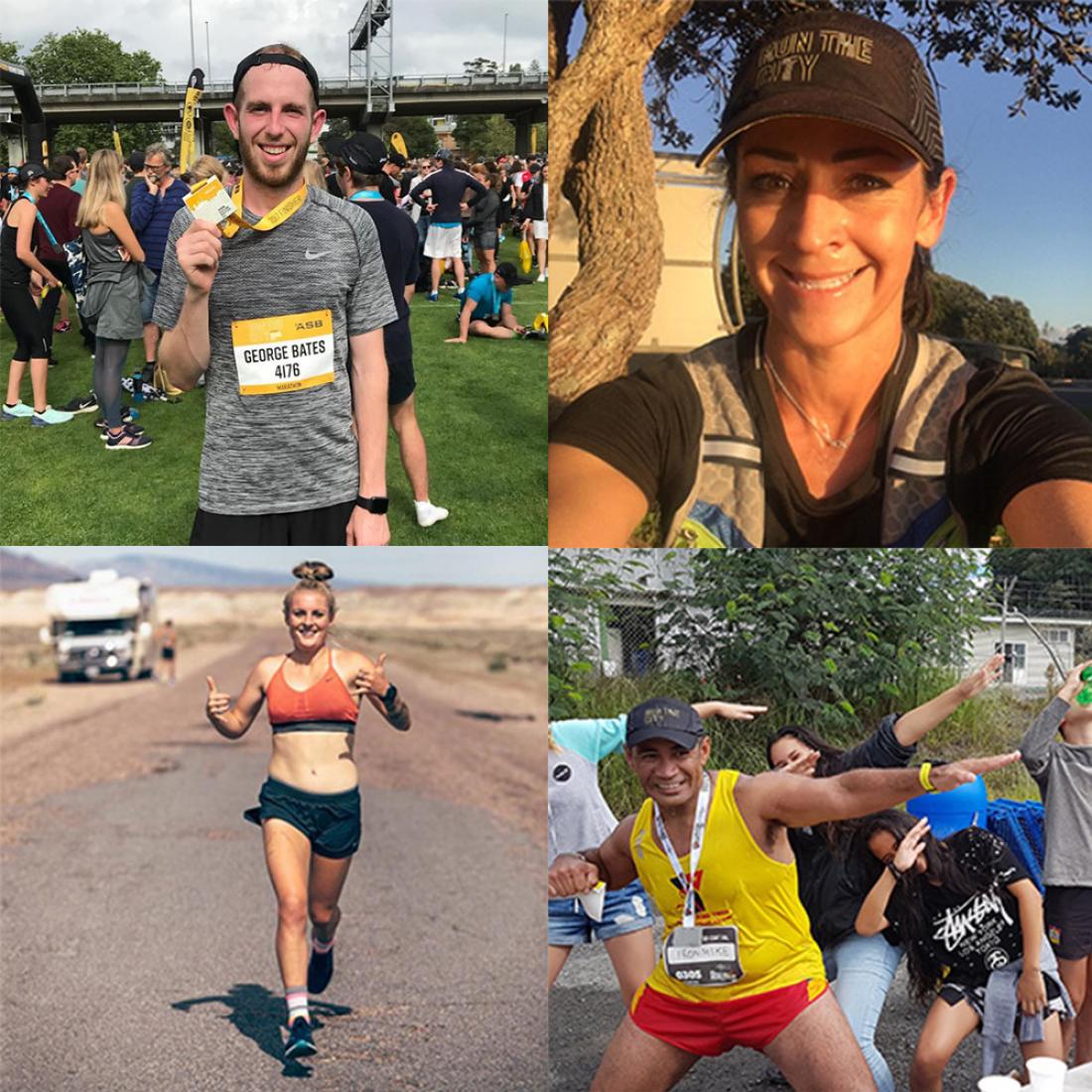 Thank you to the 400+ amazing people who applied to become an ASB Auckland Marathon ambassador for 2018!
Our team was blown away by the response, and it took us a little longer than expected to sort through the applications as there were so many inspiring stories. 
However, we are very proud and excited to announce the following eight runners are our official ASB Auckland Marathon ambassadors for 2018. Take a few minutes to read their profiles and be sure to follow them on social to see how they're tracking towards their goals. 
---
George Bates
Distance: Marathon
Social: @georgewoofbates
Hometown: Christchurch (now Auckland)
I was born and raised in Christchurch and recently made the move up to Auckland for my job. I started running just over two years ago for a few different reasons. Before running, I didn't put a lot of time into myself and that not only showed on the outside but I also the way I felt as well. Fast forward two years and I am now a mad runner achieving more than I ever thought was possible!
There is nothing more I love than the feeling of leaving all life's stresses at home and running with friends. In 2018 my goal is to set a new full marathon PB at the ASB Auckland Marathon and build up my training to be able to complete an ultra-marathon in 2019.
My second entry is going to my good friend Charlotte who was the first person I managed to turn into a runner after I fell in love with the sport!
---
Scotty Yang
Distance: Marathon
Social: @irondadscotty
Hometown: Auckland
I remember running a lot when I was a kid, but that somehow got lost along the way. I'm happy that I started running again as it makes me feel free.
I love it as running is simple, not a lot of gears are required and all you need to do is put one foot in front of the other. It is also great to run in NZ as there are a lot of beautiful places to run and great events to attend, like ASB Auckland Marathon.
I did my first half marathon at Coatesville in 2016, so far I have attended close to ten halves. I did my first full at North Shore last year and then the ASB Auckland Marathon. I cramped at both Marathons last year. I feel stronger and more prepared this year and would like to try and get under three hours.
---
Rachelle Jacobson
Hometown: Pelican Waters, Queensland AU
Distance: Marathon
Social: @darkruner @rachellejacobsen_ntqh
Just under 4 years ago, I completed my first park run at Golden Beach on the Sunshine Coast (I thought I was going to die) and like that, my life changed. I had found running, it empowered me and it made me resilient. I was doing something for myself while setting a great example for my 2 children.
Fast forward to 2018, I have now successfully completed 5 half marathons, 5 full marathons, 2 ultra-marathons and 172 park runs. Although I do not consider myself a natural runner, I train hard, I am accountable to myself and very goal-orientated. With the camaraderie of my running friends, I realised from the beginning of my running quest that nothing was impossible, everything is possible. I just have to dream big!
I am now running my first 'international' event (in my home country) and couldn't be more excited. Adding to the excitement, my brother Brad, a teacher at Balmoral School, will be joining me and be running his first half marathon. I am told that Auckland is not a 'PB course' so I am coming to run a PB anyway (sub 3.55.08)!
---
Liz Green
Hometown: Auckland
Distance: Marathon
Social: @Lizlovesgreen
To me, running is all about getting out into the world and really experiencing it. I always find a little bit of magic when I'm out running… whether it's managing to climb an epic mountain, catching a beautiful sunset, or just appreciating stillness. I ran my first Auckland half marathon when I was 26 but didn't do much more until a significant netball injury left me with a reconstructed knee about two years ago.
Running was one of the earliest exercises I could do so I just went for it, entering as many events as possible. Late 2017 I ran my first 50km ultramarathon with my best friend Leisha (we hadn't even got up to a marathon distance before this!), followed by the ASB Auckland marathon 2 weeks later. This year, Leisha and I are going back to run the 74km ultra… and then the ASB Auckland Marathon 2 weeks later.
My goal for 2018 is really just to survive both events and enjoy them, and maybe even try to improve last year's marathon time of 4:32… watch this space!
---
Alana Lythe
Hometown: Auckland
Distance: Half Marathon
Social: @alana.lythe
I have always run. From a young age, I was made to join mum on her daily walk, she walked so fast that I would end up jogging behind her to keep up. Running was a healthy form of exercise and fresh air.
In Year 2 I won my first School Cross country. I loved running fast and feeling the sense of achievement when I crossed the line in 1st place. Running was competitive and I ran to race.
When I was 12 I started Triathlon and it became 1/3 of my whole sport. I joined a community of triathletes and runners. the people I met, the stories I heard, my coach and my training partners, They helped me and inspired me every day to be better and realize my strengths and potential. Running was family, it taught me discipline and was a part of something that was all I knew.
When I was 16 my mum had an accident. She had always been a runner and lived a healthy lifestyle full of fitness but she was left paralyzed and was now in a wheelchair. Running was a privilege and the gift of freedom.
By the time I was 20 I had not run in 3 years. I was battling depression and had trouble finding purpose. At this point, we moved out west and our family reconnected with my Mum's old running club. I went to a session with my three younger sisters, it was a bush run at Arataki, in the beautiful Waitakere Ranges.  I was slow, it was hard and I was running behind 6-year-olds. I was used to being first but now I was last.
However, I kept turning up and I kept getting better. since then I have never looked back. I am now the Junior head coach of Glen Eden Athletics Club and train a very talented bunch of kids and teens.
There is nothing that makes me happier than getting to run with my athletes, friends and my family every day. I love watching them race and achieve their goals. I look forward to every run and when I am finished it gives me a sense of pure satisfaction. Running is my purpose, my Happiness, and my life. I run for those who can't.
---
 Mikki Williden
Hometown: Auckland
Distance: Marathon
Social: @mikkiwilliden
I've been running for over 25 years and absolutely love it - it's part of my identity, and, while not as competitive as I was in my younger days, I still get a real sense of satisfaction from turning up on the start line knowing that I did everything I could to make me the best I can be on race day. I am not as attached to the outcome as I am to the journey, and my main goal in life is to be able to run when I'm 90 years old!
My goal for this marathon, though, is 3.17 - slower than my PB, but faster than in previous years. I've got nothing to lose! I'll be giving my second free entry to my boyfriend Barry Harrison (aka 'the Vegetarian'), who is yet to go under 3h... perhaps this year??
---
Michael Stowers
Hometown: Auckland
Distance: Marathon
Social: @tagaloaironmike
My name is Michael Stowers aka Ironmike, competed in 15 Ironmans. I love to run for fitness and to break world records, I started to love running when I turned 40 started to do a few marathons. I am like a diesel engine, I just keep trucking along.
I am proud to say I have run 46 marathons and have come last in 5 marathons, with one over 7hrs34mins, this year I ran 3hrs quicker than my slowest in hurricane conditions my fastest in Wellington 4.34. I am currently on a run streak of over 4 years and 4 months running every day, the run streak world record is 52 years so I've only got 48 more years when I'll be 99.
I am conscious there are not many Samoan marathon runners, so it is good to be a role model for Pacific health. My father passed away aged 62 of heart disease, many people are suffering from ill health with lack of exercise a contributing factor and want I to live to be 100 so I can be around for each of my 4 daughters 50th birthdays! Thinking the long game.
---
Char Jackson
Hometown: Auckland
Distance: Marathon
Social: @charjackson_nz
My name is Char. I'm 25 and been running since I was 19. In the past, I was a competitive runner, representing Auckland in road running. I now run on top of swimming and cycling as I have moved to triathlon, but running is still my favourite discipline! I have also found that running is a great way to destress after work where I am a children ICU nurse. For the past 4 years, I have been a pace runner at the ASB Auckland Marathon, and I have always enjoyed that experience. I feel like I am running for others rather than myself. 
I will be pace running again this year, so my goal will be to make sure I get everyone to the line on time. last year I crossed the line without a second to spare! So I would love to be able to do that again. I am going to gift my second entry to my friend Amy, a long time friend who I first met when we ran together on the Auckland running team.