Sunday 01 November 2020
WHEELCHAIR PILOT RECEIVES RAVE REVIEWS
28 October 2018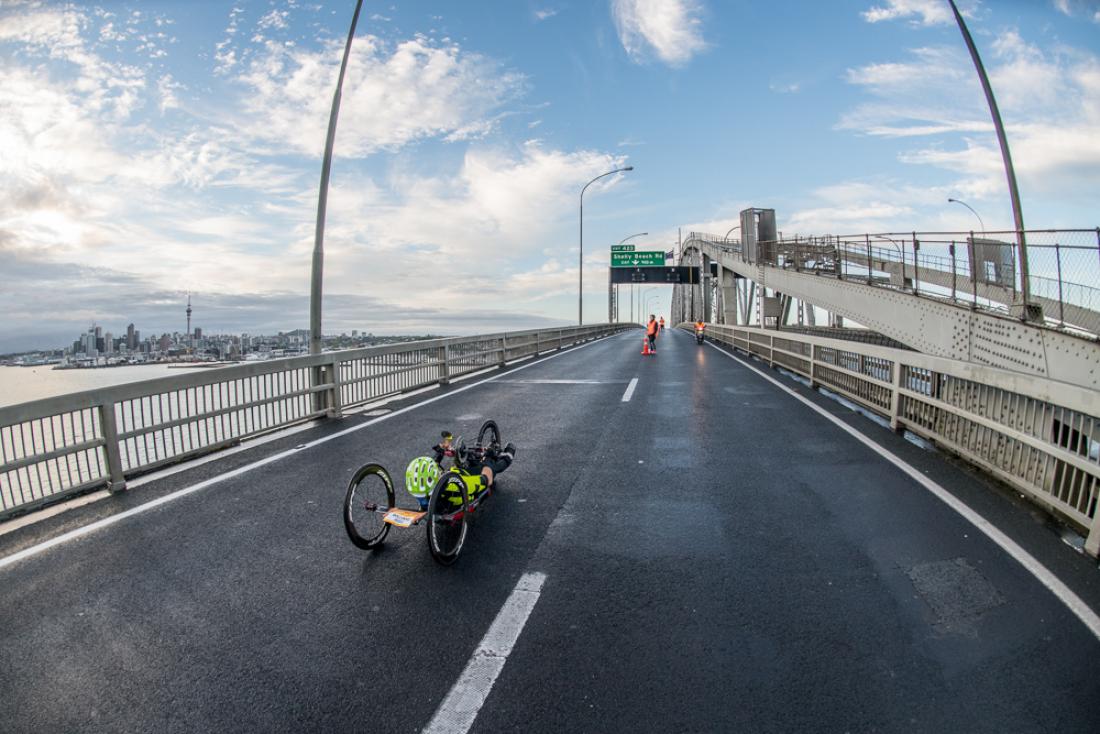 Over 15,000 people took to the streets of Auckland City today at the ASB Auckland Marathon, with cloud and early showers giving way to a near perfect day for running, walking and wheeling as the event celebrated the introduction of a wheelchair category with universal approval from competitors and spectators alike.
Brendon Stratton (Auckland) took out the pilot wheelchair event with both hand cyclists and push rim competitors invited to take part, and says the sky is the limit in the future.
"It was fantastic, I had been crook for a couple of months and been off the bike, but I spoke with Dave Mac (MacCalman), one of the organisers, he twisted my arm and said to get on the start line. I am a little disappointed with my time though, I had to measure myself coming back a little bit, but it was good on a great course."
There was an element of bravery for those taking part, with early showers making for a hair-raising descent off the Harbour Bridge.
"I had no brakes, let's just say they were optional! I hit about 80 kilometres an hour coming down the bridge and there was a little wind picking the bike up a bit, but I just had to throw it into corners and hope for the best, but you get used to it, you can feel the back of the bike slipping and know when to take charge through those corners."
Stratton has raced extensively overseas, but says the event has an amazing future and has no doubt of its potential to grow in numbers and stature.
"This could go huge, massive. It compares to the likes of Berlin where they have 4 or 500 people in push rim and handcycle, guys I race with overseas are knocking off marathons in under an hour. Berlin is all flat though, a little different to New Zealand. This course is very much a Kiwi course with the topography of New Zealand with some hills, good flats and technical stuff as well so it isn't just about power."
The ASB Auckland Marathon has a catch line of 'Run it Your Way', something Stratton wholeheartedly agrees with and hopes the event gets bigger and better with more push rim and handcycle competitors drawn to the race.
"I think being invited to do it is fantastic, it shows people are more accepting of it. Just because you achieve the end goal differently, you can still achieve the end goal. People are always looking for excuses in life not to do something, I prefer to just get out and do it."
Another to enjoy her day out was Tiffiney Perry, the Waikato athlete was first female home today and has won her division in New York in the past, but was raving about Auckland, suggesting she might be able to save on airfares now!
"It is just great to compete in the inaugural event, I may have gone to New York again, but I don't need to now! This is just as amazing as New York I have to say. I just hope the organisers will have us back next year."
Sue Reid of Papamoa had a smile as wide as the Harbour Bridge that she crossed with ease!
"That was awesome, so much fun, the bridge was such a breeze compared to what everyone was saying before the race."
Perry wasn't so sure about the bridge as she eased into the event, finding her best form on the stretch along Tamaki Drive.
"I took it easy to start with as I didn't know the course, there were some chicanes and barriers and you can't see much from down here, but after the bridge I know the road to St Heliers and it was pretty fast and flat."
Peter Loft, co-founder of Achilles New Zealand, who were instrumental in working with organizers and the Halberg Foundation in getting the pilot event off the ground, was delighted with the day.
"Feedback I have had from the athletes is how much they enjoyed the event today and loved the course, in many cases it exceeded expectations. The two Australians have already said they will be back in 2019 and bring more athletes with them.
"A common thread was they pretty much all said the Bridge was easier to push up than they expected, and I do believe some might have been at risk of speeding tickets coming down the other side. And the support from the crowds throughout the course really helped.
"The support from the event organisers to make this all happen was absolutely suburb. And ASB's hosting of the Achilles and wheelchair athletes capped off a great day."
This race has the potential to grow wheelchair racing in New Zealand and become a global inclusive event on the Marathon Calender, 
ASB supported all the athletes in the pilot wheelchair event with the provision of specialized racing tubes and tyres for their racing bikes and chairs, while also sponsoring competitor Laura Stuart into a racing chair, so she can train and enter more races here in New Zealand, and overseas.
18 athletes lined up in the wheelchair pilot, including two from Australia, with a host of former and current Paralympic stars enjoying the event and the chance to trailblaze the way for future para-athletes to follow in the future.