Sunday 01 November 2020
TRANSPLANT RECIPIENT DIANE PLIMMER TO BE REMEMBERED AT ASB AUCKLAND MARATHON
18 October 2019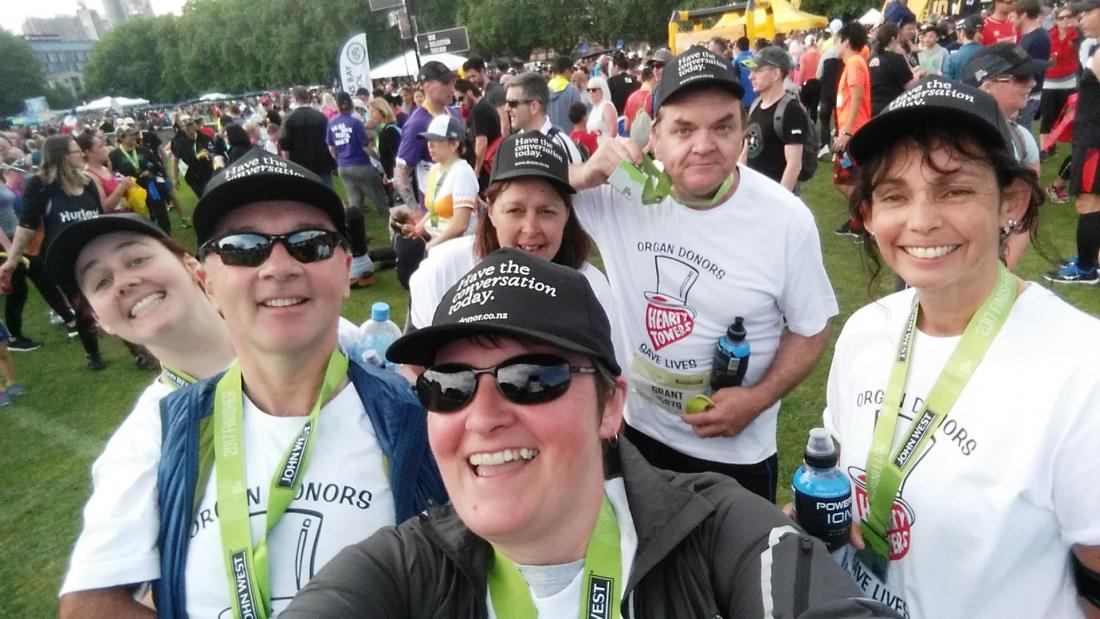 It will be an emotional return to the ASB Auckland Marathon this Sunday for heart transplant recipient Keith Eades when he, along with 30 others walk and run the John West 12km Traverse to remember fellow transplant recipient Diane Plimmer, who sadly passed away in January this year.
Eades (Pukekohe) walked the Traverse alongside good friend Plimmer back in 2017, when both were 18 months post-transplant and forging a great friendship that began with a meeting in hospital in 2016 as Keith began his life with a new heart and Diane hers with new lungs. Further bonding the two and their families was the fact they shared the same donor.
That achievement in 2017 was an incredible one and further strengthened the links between their families, with the courage shown by both a great example to them and the wider community, it was a real and deserved celebration of their transplant recovery.
Diane was elated with the achievement back then, with her delight evident in her comments post-race in 2017.
"Keith suggested we do the Auckland 11km to raise awareness about organ donation and of course I was in. What an experience it was, 14,000 people all going over the Auckland Harbour Bridge! We finished and even got a medal (my first ever)."
Keith remembers the first meeting with Diane and the start of a great rivalry between the pair.
"My first actual memory of Diane was in the hospital ward. I was sitting in a lazy boy chair and spotted her walking around. I thought if she can do that, why can't I? That was the start of the friendly rivalry between us that continued during our time in hospital and post-transplant recovery in Hearty Towers. The weekday visits to physiotherapy in particular became very competitive - both our exercises and the walk back to Hearty Towers afterwards.
 "During our build up to 2017 John West Traverse at the ASB Marathon our rivalry continued, with each of us trying to beat the other's distance walked and duration. On race day we both continued our friendly rivalry."
Sadly, Diane passed away in January this year. At her wake someone suggested taking part in the John West Traverse event again this year in her memory and so 'Team Diane' was formed. Since then the team has grown to the extent that this Sunday, 31 people will be taking part in Diane's memory.
Diane's husband Grant Plimmer will be amongst Team Diane on Sunday, and while it will be an emotional expereince for him and the others, it is also about celebrating Diane's life and achievements.
"I still thank her donor in my heart. Without the opportunity to live a little longer, I would not have been able to create a huge collection of loving memories.
"Six of us did the John West Traverse event over the Auckland Harbour Bridge two years ago and we all had a ball. Di and I also walked the Rotorua tree walk, and the trail through the trees. We biked 23km around the Hawke's Bay cycle way from Napier to Clive and back. We did the colour run in Napier and so many more walks. Participating in everything we were capable of doing. The opportunity to live again inspired my wife and I dedicated myself to her recovery. I thank my wife for falling in love with me over and over again."
It is not just about honouring Diane and her amazing courage and determination though, it is also important for Team Diane to further promote awareness around organ donor programmes.
To that end Team Diane will be wearing their black 'have the conversation caps. The team will be wearing the caps to encourage everyone to talk about organ donation with their families, because thanks to the generosity of a deceased organ donor, Diane was able to have two more years with her family and friends making magical memories.
Organ Donation New Zealand spokesperson Rebecca Oliver is incredible proud of Team Diane and all they are looking to achieve this weekend.
"It's wonderful that Diane's friends and family are taking part in the John West Traverse in her memory. We thank all of 'Team Diane' for encouraging more people to talk about organ donation with their families."
In total 15,000 participants will line up this Sunday across five different events. Events all take place on Sunday morning and all head to the finish line at Victoria Park throughout the morning and early afternoon. The wheelchair marathon is the first event to get underway at 5:55am on Devonport's King Edward Parade.