Sunday 30 October 2022
Thousands Run the City for the Auckland Marathon's 30th Anniversary
23 January 2022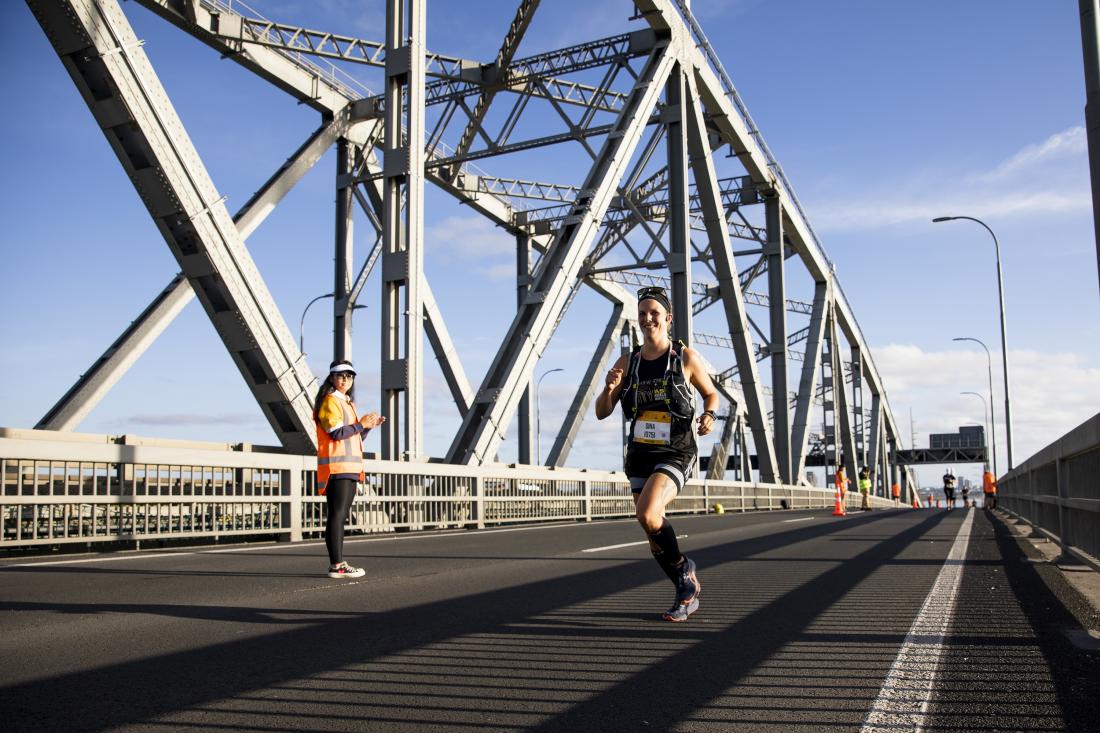 The Auckland Marathon celebrated its 30-year milestone today as eight thousand runners added to the previous finishers total of a quarter-of-a-million in this historic event.  
Since 1992, athletes have revelled in the opportunity to run across the Auckland Harbour Bridge in what is now an integral part of the event and one that draws people in year after year.  
The first athlete over the Victoria Park finish line was Wheelchair Marathon winner Jonathan Nelson, who repeated his victory from 2020.  
Jonathan said he loves racing over the Harbour Bridge, with the wheelchair racers picking up some serious speed on their descent. 
"It was so good, I went down about 10km's faster than I did last time going down the hill, so it was quite exhilarating," said Jonathan. 
Not long after the wheelchair racers and half marathon elite athletes were finished, runners and walkers began to cross the finish line thick and fast. 
Amongst the Barfoot & Thompson Half Marathon finishers were Harrison Pali and Evie Mansfield, who had a fairy-tale ending to their race when Harrison dropped to one knee to ask Evie to marry him. 
The couple have been together for more than two years and had started training for the half marathon in February last year to keep fit and do something together. 
Though Evie had an inkling that a proposal was coming, she said she didn't expect it today. 
"I wasn't sure, he was being very secretive the last few days and he wouldn't tell me where we were going for dinner tonight," said Evie. 
"We talked about it and knew it would probably be sometime, but I thought this would be the perfect time because she'd be so focused on getting the run done that she wouldn't notice this box in my pocket," said Harrison. "As we got closer to the time, we'd put in so many hours running together, sweating and pain and going through it all together, so it just felt like the right moment to seal the deal." 
The now husband-to-be ran the entire 21km course with the ring in his pocket, checking every few kilometres to ensure it was still there for the big finish.  
Each athlete out on course today had their reason for running and a story to tell, but for many running for charity, there was an extra slice of motivation. 
Ben Sinnamon finished the ASB Marathon in just under six hours – an impressive time given he ran the race barefoot. Ben was running to raise money for KidsCan with a target of $2,500. 
Also running for KidsCan was 'Runaway Bride' Danielle Hermez, who took on the Barfoot & Thompson Half Marathon in her old wedding dress. Danielle was joined by 'bridesmaids' Matias Perez, Michael Walker and Christian Costa, each wearing pink floor-length dresses. 
Danielle, wanting to do something fun to raise money for charity, was inspired to run her fourth half marathon in her ten-year-old wedding dress after seeing firefighter Simon Trye finish the 2020 event in full firefighter gear. 
Simon Trye himself was back this year, again kitted out in full firefighter gear, completing the John West 11km Traverse and raising $5,000 for Starship. 
The ASB Auckland Marathon is always a vibrant celebration of running and today even more so, as the event commemorated its 30th anniversary. 
Robert Scott will forever have his name written into the history of the event as he completed his 30th Auckland Marathon, running every 42.2km race since 1992. 
"I'm thrilled I've done 30," said Robert. "I can remember when I was in my twenties, I'd look at people doing 20 marathons and think wow, and now I've done 30. 
"I've done enough to know I'll cross the finish line, but never in 100 years would I have guessed in 2022, back in 1992, that I'd be here. Time passes you by fast." 
The ASB Auckland Marathon will return sooner than usual, with today's January event postponed from its usual date in October. That means there are two ASB Auckland Marathon's in 2022, with the next event taking place on 30 October 2022.